Originally published on Donewaiting.com (July 23, 2010)
Photo by Glenn Sweitzer
On Sunday night, John Waite will be opening for Huey Lewis & The News (trivia fact: my first concert was Huey Lewis & The News at Blossom Music Center during the Sports tour) at Fraze Pavilion in Kettering, Ohio (1.5 hrs. west of Columbus).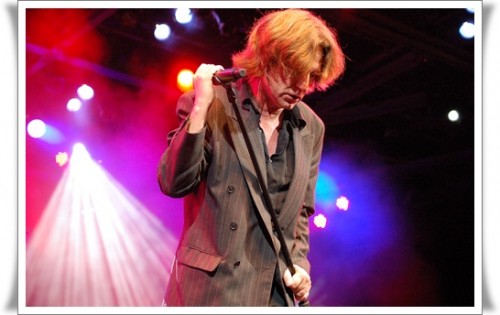 Waite started his recording career as a member of The Babys ("Everytime I Think of You", "Back on My Feet Again") in 1977, enjoyed a hit-filled solo career in the '80s ("Missing You", "Change"), joined the supergroup Bad English ("When I See You Smile", "Price of Love") in the early '90s, and did some work with Alison Krauss in the '00s, including an incredibly intoxicating remake of "Missing You".
For the past few years, he's been touring and giving what fans really want … the hits. Waite is almost finished with a new album, as you'll read, and is happy to still be performing in front of fans 30+ years after he first started out.
The singer recently answered some questions I sent via email.
You've been able to sustain a 30-year career based primarily on songs that you wrote 20+ years ago. And you tend to tour with your peers from the '80s. Would you rather be considered a contemporary artist or are you happy with the '80s tag as long as people still remember you and the songs you've written?
The Babys' last year together was 1980 and we had quite a bit of success. Those songs were already considered part of the 70's. Then came "Change" and "Missing You" in the 80's and "When I See You Smile" in the early 90's, etc. I don't think I've ever been part of any one decade. I've never considered myself mainstream although I've had some pretty big hits. The longer you stick around, the more likely you are to pigeonhole. Personally, I think the last couple of albums are my best, but what do I know?
I hear you're working on some new material. How's the progress coming on that?
Yeah, I've been recording for a year here and there in Nashville with Kyle Cook of Matchbox 20 and also in L.A. with my band. Everything should be ready to go for a worldwide release in February of next year. Also, the live album In Real Time, gets an American release in November on Sony, so we're looking forward to that.
Will the fans who follow you because of "Missing You" and "Change" have an easy time digesting the new stuff or will it challenge them a bit?
Well, I don't know. If you look at The Babys' "Isn't It Time," you wouldn't think it would go with "Missing You," and you wouldn't think "Everytime I Think Of You" would go with "Change," but they do. I suppose if I kept the same band from the 70's, all the bands would sound similar, but guitar players come and go. Quite honestly, if you have any integrity at all, you always try to up your game with every release. A lot of big bands in the 70's and 80's just keep making the same record.
After seeing the success Alison Krauss had with her collaboration with Robert Plant, do you wish you had done more than just record "Missing You" with her? For the record, I absolutely love the 2006 version and the new spin you put on the classic song.
Well, we did. We recorded "Lay Down Beside Me" for (Alison's album) A Hundred Miles or More. It was a great experience, especially playing at The Opry. I've always loved bluegrass. It's as important as the blues to me.
On the live album you recently released, you do a great job of spanning your entire recording career. You've had so many different – and I imagine rewarding – chapters in your life (from The Babys to your early solo stuff to Bad English to what you're currently doing), if you had to pick one particular era as the time when you were "on top of the world", what era would that be and why?
It's all one unbroken experience to me. Living in New York City and making music was the high point. I couldn't have written Temple Bar anywhere else. Cool songs like "Masterpiece of Loneliness," "New York City Girl," and "Always Be Your Man" were specifically written about the city. It's the only place in the world I feel at home. Any time spent in New York City was the best time.
In the late '80s, early '90s I was a big hair metal fan and read all the magazines that covered that genre. I seem to remember that Bad English got some coverage in Metal Edge and maybe a few others. Would you say this period in time was a bit of an identity crisis for you and for Bad English? What type of bands did you tour with?
I always knew what I was doing. I thought I could bring something to the picture and give it some depth. I think Bad English is pretty underrated. Maybe the image got in the way. I was going for Johnny Thunders meets Jesse James. I think it worked. It's possible it was too rock for the Journey audience.
Lots of artists do "all covers" albums in order to either fulfill a record contract or to buy a little more time between releases of original material. I don't think you've ever done an album of covers but on the live CD, you cover "Rock and Roll" and I just saw that you covered a Who song for some project. Have you ever considered doing a covers album and, if so, what songs would you consider doing?
If I did, it would probably be country songs — the great American writers of music exist largely in country and bluegrass. Merle Haggard, Larry Sparks, The Carter family and Del McCoury are all extreme examples of that music. I could get lost in that stuff. I revere those people but the originals can't be topped.
Talking about your interest and love of country music, if seems to me that many people I talk to or personally know really tended to appreciate country/bluegrass/folk singers/songwriters the older they got. You can certainly include me in that group – I never owned ANY country-related music until I was in my 30's and then I started listening to Willie Nelson, Johnny Cash, Merle Haggard, Hank Williams, etc. and I really appreciate what they do. Were you always a fan of that type of music or is it something that you discovered later on? If that's the case, how did you discover it? For me, it was getting tired of the same old regurgitated pop/rock stuff on the radio. I went to the library, went to the country music section and checked out a ton of music and just immersed myself in it for a few weeks.
The first time I saw Marty Robbins' Gunfighter Ballads & Trail Songs album, I was entranced. Cowboy songs had an enormous effect on my five-year-old mind. The western songs have all the myth and romance of America. They were a great accompaniment to the cowboy outfit. My interest in America stemmed from that and led me to Hank Williams and Big Bill Broonzy and from there to Lead Belly and the other Blues greats straight back into Hank Williams. My Auntie Doris and Pat were huge country fans. In fact, my Auntie Doris gave me a record player when I was seven and a whole bunch of American music on 45's. From there on in, it was all I wanted to do. In fact, Rock and Roll was a departure for me. Anybody that sings Rock and Roll from Great Britain is hugely aware of Country music and Blues music. It's just how we grew up. That's not the case in America.
I have to believe that some of your songs have been covered as well. Are there any versions of your songs performed by other artists that you particularly enjoy?
I thought Alison (Krauss) singing "Missing You" was just beautiful, but as a producer myself, I'm never truly happy with something I haven't had a hand in recording. Most singers go over the top.
If you could hear any band cover one (or more) of your songs, what band would that be?
Rod (Stewart) has still got it in spades, but then again, he did "Missing You." Maybe Willie Nelson singing "Bluebird Cafe" or Alison (Krauss) singing "Masterpiece of Loneliness."
This coming weekend you'll be opening for Huey Lewis and the News just outside of Dayton, Ohio. Have you done other shows on this tour or is this just a one-off?
It's a one-off. It came in at the last minute. We've been doing much less unplugged shows this year so it's a buzz to do it. I have a soft spot for Ohio. It's the first place I got to when I came to America, and that's a great gig, so we're very much looking forward to playing.
How do things like this come about? Do you prefer the one-off's/short tours or would you rather hop on a bus for 6 weeks and criss-cross the U.S.?
Playing is what we do, and there's no greater kick than playing live to an audience, so if I could be making this phone call from a bus right now, I'd be happy. We tend to work three dates here, two dates there all the time, so you could say we're always on tour. We just got back from Europe where we played for three weeks non-stop, and that was a blast. The important thing is simply to play music.
I imagine you've played dozens and dozens of shows in Ohio over the course of your career. Is there anything in particular that comes to mind when you see Ohio on your tour schedule? Any favorite restaurants, places to visits, old friends to catch up with?
Well, Cleveland is loaded with nostalgia for me. Like I said, it was the first place I lived in America when I came over to join a band. Ohio is a beautiful state, and the people really are the best. I'm glad that the Rock and Roll Hall of Fame is in Cleveland. Radio station WMMS and Kid Leo, along with Creem Magazine out of Detroit, virtually kept Rock and Roll alive in the 70's, so God bless the Midwest.